In Skyfall, Bond's loyalty to M is tested as her past comes back to haunt her. As MI6 comes under attack, 007 must track down and destroy the threat, no matter how personal the cost.
Deril

wrote on November 15, 2012, 4:54 pm

Rated
Thanks to the good people at Dynamic Mutual Funds, I was treated last night to an evening of dinner and 007!

I really enjoyed the movie from head to toe. Not the best Bond flick, not by a long shot, but still very VERY solid. To think that this franchise is 50 years and running, it's actually quite impressive that the franchise has been able to raise the bar.

I won't say much about the movie as not to spoil but once a few people have seen it we can discuss. I will say that Bardem is masterful and steals the scenes. He really plays such a good "creepy" character (see No Country for Old Men).

As far as the Daniel Craig era is concernced, my favorite is Casino Royale then Skyfall and the Quantum of Solice. Therefore, if you enjoyed QOS and in general like Craig and the franchise then this is a no brainer.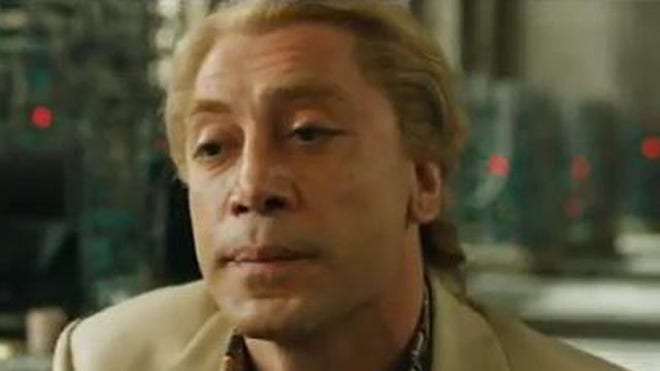 A good, enjoyable turn, but NOT great.

SPOILERS!******


*********


This felt like less of a Bond film and more of an M film. The plot was all about M for the most part, so we get to see way more Judi Dench screen time than in previous releases, and it wore on me. This made me feel the same as I did about Casino Royale - Craig is great as Bond, but I'd like to see him in a better Bond film. So far, Quantum Of Solace is my fave Craig outing.
Anyways, the action was serviceable for the most part, but there were long stretches of not much going on, and the ultimate showdown at the end was lacking. Bardem was an excellent villain, but his character's actions at the end went in the polar opposite direction of what he was already built up to be, so it was a little eye-rolling. The introduction of Ralph Fiennes into the series was a nice touch, I really liked Adele's theme song (thought it harkened back to to the classy Shirley Bassey tunes), and I look forward to the next few Craig films. Obviously, if you like Bond films, it'll satisfy, I just don't agree with all the über-hype that's been attached to it since its release. Now, let's all do some scorpion shots!
Jefferygn

wrote on December 6, 2012, 8:39 am

Rated
I have to say this is the best Bond film in years. QOS suffered from Director Greengrass's shaky-cam effect. I am surprised the Cordes bros are gisming all over that one...

I thought this outing was well scripted, paced, and crafted. The action was clear to follow, while also being appropriately over-the-top, yet without being ridiculous.

My only minor complaint was that the plot was a bit insular. Usually, the Bond villain plots revolve around some international issue (contemporary or contrived) - however, this was all about internal conflict within MI6. As good as the plot was, it just lacked a bit of that Hank Scorpio ambition. Although that said, I enjoyed the British locations. I thought it was cool to see London and Scotland get blown up real good!

SPOILER

I LURVED that they brought back the Aston Martin DB5 and actually had it function! Awesome!
Jefferygn

wrote on December 6, 2012, 8:42 am

Comment
Oh, and the number one reason NOT to buy Dynamic Mutual Funds?!

That they soak their meagre returns up by taking brokers to James Bond movies rather than returning these profits back to their shareholders!

Hooray for waste!!
Deril

wrote on December 6, 2012, 11:48 am

Comment
Had to throw a shot in there eh Jeffey?

You're such a bully.