The story of how an eccentric French shop keeper and amateur film maker attempted to locate and befriend Banksy, only to have the artist turn the camera back on its owner with spectacular results. Billed as 'the world's first street art disaster movie' the film contains exclusive footage of Banksy, Shephard Fairey, Invader and many of the world's most infamous graffiti artists at work.
Fucking awesome doc. Those who may have heard of it think might think it's a doc about street art phenom Banksy, but that's only part of the story - it really focuses on Thierry Guetta, the Frenchman whose camera captures most of this footage in an attempt to document the L.A. street art scene (this goes beyond graffiti folks, though it is illegal) and hopefully get to document the elusive Banksy himself, until things get a little out of hand and Guetta himself decides to become a street artist, much to the chagrin of many others in the scene. I won't elaborate, but this is one of those films that provokes immediate discussion afterwards, primarily about art, vandalism, selling out, hype, intellectual property and theft, vacuous hipsters, many years of paying your dues as an artist vs. the quick fix, trends, loyalty, the commercialization of art, delusions of grandeur, and on and on......and of course the ever-present 'is it art? what IS art?'.
Fascinating people telling a fascinating story about a little known and impermanent movement.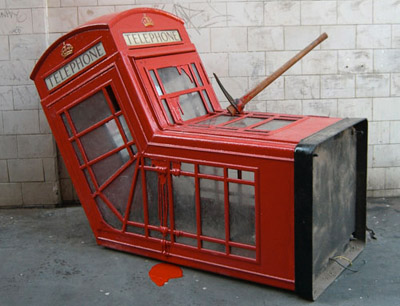 Deril

wrote on October 19, 2010, 1:15 pm

Comment
Quit boring everyone....YOU'RE BORING !
Jefferygn

wrote on July 16, 2012, 9:41 am

Rated
Agreed - a damned fine doc. I was amused to read some reviews that suggest there may be whiff of "hoax" to the movie, adding another dimension of fascination.

Thoroughly enjoyable, and thought-provoking.
Wow, glad someone else finally saw this!
Yes, lots of cries of 'hoax', which I thought added layers to the whole experience. If the film itself is a hoax, then well-played!
Incidentally, when Banksy was in Toronto years ago, he apparently did six pieces incognito (as per usual) interspersed throughout the city. I was able to find 2 of them (one is pictured below). They have all since been tagged over, or altogether painted over. Amazing to have found them, a shame they are gone.