Papamikey

wrote on October 12, 2010, 11:56 am

Rated
I was surprised by how much I DIDN'T hate this movie...I thought I would find Will Smith's kid ANNOYING but didn't...I thought Jackie Chan would play his usual tongue-in-cheek/nod to the camera slap stick martial arts but he didn't.

It was actually quite powerful and more meaningful towards the TRUE essence of martial arts and its roots.

Some of it did smack a bit of a Chinese travelogue (it was apparently funded by China) and DID dip a little bit into Zen-sappiness (but in a GOOD way IMHO).

All in all, a very good film.

Better than the original even....GASP!
Deril

wrote on December 7, 2010, 12:28 am

Rated
Fuck this shit !

This is not a "very good movie" and this in no way comes close to the original.

What a waste of time. The kid is annoying as all hell and there is zero chemistry between him and Chan. Lots of the dialogue is word for word form the original, but just isn't delivered in the same way. For a movie called Karate Kid, it's all about Kung Fu and every 3rd word is Kung Fu.
Why not call it the Kung Fu kid and try to add a drop of originality into it.

In the original, Machio learns several different moves and when he enters the tournament, his victories are actually quite realistic and he sticks to his basic technique. This kid basically learns to take off his coat, and all of a sudden he's doing back flips and ninja type moves. The stupid snake move at the end is laughable.

Seriously, this is one of the worst movies I've seen in a while.

"Clippres" must be Chinese for "crazy old man"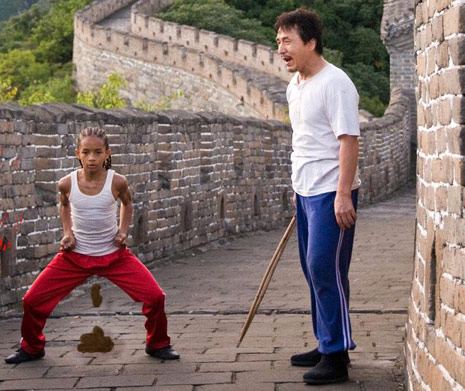 Papamikey

wrote on December 7, 2010, 12:10 pm

Comment
LOL!

I now tend to think of the Cordes Bros. (copywrite 2010 - Nintendo) as either watching some of these movies while getting live organ transplants or being repeatedly kicked in the gnards (or both).

Such seething vitriol... Honestly...?
LOL - I was looking forward to Deril's review, as he kept texting me while I was at work to tell me just how shitty this film is. I am inclined to ETB and agree, and are therefore putting it onto my DWW list. It was predestined to suck!
Papamikey

wrote on December 7, 2010, 4:00 pm

Comment
How many movies are IN the DWW file now? Must be set to burst...
Not as many as you'd think.....it's surprising what you'll succumb to and watch when you break a leg and are laid up for 3 months. At that time, I caved and watched 'The Notebook' and 'Miss Congeniality' over stuff like 'Meet The Fockers', 'Night At The Museum', 'Zoolander', and 'Anger Management' (still all unseen by me). Hmmmm....maybe I'm predisposed to the lameness of Ben Stiller and Adam Sandler? FML!