Snow White, pursued by a jealous queen, hides with the Dwarfs; the queen feeds her a poison apple, but Prince Charming awakens her with a kiss.
Deril

wrote on November 15, 2007, 12:01 am

Rated
Before anyone goes and gives this movie anything BUT 4 stars, just remember 1 thing. This movie is 70 years old !!!!

Can you imagine how ground breaking this must have been at the time. The story is a true love story. memorable characters and songs. Sound and voice work is exceptional and the animation still holds up quite well considering the age of the movie. The opening scene at the well with the birds and the shot from under the water, brilliant work.

Many stories have since been told using this as the format. Witches, Dragons, Dwarfs, sword fights etc etc. if I didn't know any better, I'd say Lord of The Rings ripped this baby off.

A true classic in every sense of the word. My daughter is 2 and enjoys watching this from start to finish. It's also quite short which is nice when you need to re-watch over and over and over and over....

PS. Syd has a Snow White costume that we bought at the Disney store. whenever we watch this now, she asks to wear it. Here's hoping the boy is into Hercules.
motleymitch

wrote on November 15, 2007, 12:50 am

Comment
Hercules! Hercules! Hercules!
Oh yeah...Snow White....
I was in the play in nursery school...as Bashful (and may I add I stole the show and was brought out for an hour's worth of bowing...)
But I digress!
Yes, a true classic in every sense of the word, and as Deril pointed out, even more astounding given its age. And not only has it been imitated countlessly over the years, it has spawned its share of dwarf-related porn movies as well.
The true mark of homage!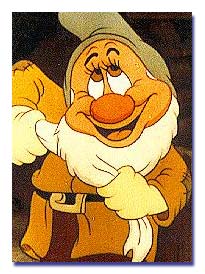 Papamikey

wrote on November 15, 2007, 9:28 am

Rated
My kids never got into this one, rented the "Special Edition" for them but they didn't want to watch it. Could have something to do with them being freaked out on the Snow White ride at Disney...I dunno.

Anyhoo, yep it was the original Disney feature, a bit dated admittedly but still holds up well in terms of quality and craftsmanship.

A true benchmark in the world of animation.

Just like Star Wars is in Sci-Fi
And Blade Runner...
And The Matrix...
And Frankenfish...