Jefferygn

wrote on November 19, 2006, 10:24 pm

Rated
Jefferygn

wrote on November 19, 2006, 10:24 pm

Comment
Jefferygn

wrote on November 19, 2006, 10:25 pm

Comment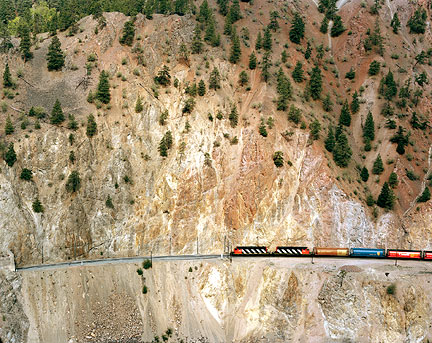 Jefferygn

wrote on November 19, 2006, 10:33 pm

Comment
Jefferygn

wrote on November 19, 2006, 10:34 pm

Comment
Jefferygn

wrote on November 19, 2006, 10:47 pm

Comment
These are some of the images that the photographer Ed Burtynski has created. They are eye-opening, beautiful, and often frightening in their presence.

The movie itself follows Burtynski as he travels through the rapidly modernizing China documenting the change. The footage of an astoundingly huge factory making clothes-irons for export provide a whole new meaning to the notion of the label "Made in China." Thousands of people in rows and rows of tables, each doing repetitive tasks over and over all day. You think your job is lame? Try doing an assembly job in mainland China. This is not about human rights abuse. This is simply about becoming aware of the labor involved in the everyday items we use and often throw away without a thought.

Other sections in the film include his photographs of the contrast between the old and modernized Shanghai, a city which has grown by 6 million people in the past several years - that's like a whole new greater Toronto area; his documentation of the cities being deconstructed and removed ahead of the rising waters above the Three Gorges Damn; the ship-breaking industry on the shores of Bangladesh - people literally taking apart giant ships, piece by piece, for scrap metal - of course with all the hazards contained therein; the towns in China which have the "industry" of processing so-called "e-waste", i.e., computers and electronics - people who work all day taking apart computer and chips for scrap - of course the heavy metals and toxins in this waste is so pervasive, the city smells of it, and moreover, the water table has become contaminated with heavy metals such that water has to be trucked in.

While this movie is not exiting, it is filled with images, both moving and still, that will stay with you for a long time. It is an eye opener for all of us in the west; and yet it accomplishes this without being preachy or condescending towards any one.
Jefferygn

wrote on November 19, 2006, 10:49 pm

Comment
Jefferygn

wrote on November 19, 2006, 10:50 pm

Comment
Jefferygn

wrote on November 19, 2006, 10:52 pm

Comment
Jefferygn

wrote on November 19, 2006, 10:53 pm

Comment
Jefferygn

wrote on November 19, 2006, 10:54 pm

Comment
Jefferygn

wrote on November 19, 2006, 11:02 pm

Comment
BTW, I found one of his prints for sale online: $8,500.

China Recycling #15, Cankun Aluminum, Xiamen City, Fujian Province, 2005
I have to agree with Jeffy for the most part, but I ultimately found this doc, well, a little dull. I appreciate where Burtynsky is coming from, especially because he never gets preachy, which would be easy to do given the environmental subject matter, but in the end I felt I would rather go to an art gallery and view his work rather than see them as still photos in a doc. It lacks the impact of a film like Baraka, where the images are vibrant and made more for the big screen, and the musical accompaniment is all that's needed. Here, we have some mundane commentary from time to time, coming from Burtynsky himself about his means and methods and the environmental impact of his subjects, but it's sparse, and we're left with long segments without audio of any kind, and I felt like I was watching a slideshow. His photos are remarkable though, and I felt they needed a better medium to display them, perhaps bigger-than-life prints hanging from the sides of buildings?
Anyways, this was an interesting take on an artist's project, but I lost interest along the way after the repetition kicked in. A perfect doc to fold laundry to.