David, a college student, is looking for a job. He is hired by Dr. Stoner as a lab assistant for his research and experiments on snakes. David also begins to fall for Stoner's young daughter, Kristina. However, the good doctor has secretly brewed up a serum that can transform any man into a King Cobra snake-and he plans to use it on David.
Deril

wrote on July 29, 2006, 11:46 pm

Rated
WHAT WAS I THINING???

This is beyond bad. I don't even know where to start.
Acting = awful
Script = non-existant
make up = BAD !!

OK, so the doctor is turning Benedict into a snake...GET TO THE MONEY!!! It takes forever to transform him and he looks stupid in the process. Most of the move shoots the back of his head, no doubt to save on make up costs. Story lines within are dumb.

bad, bad, bad...stay away.
Hmmmm....saw this in the video store a while ago and considered it, but it TRULY looked terrible, even from the box.

Darrell, if you're still having trouble posting from rottentomatoes.com, try imdb.com instead. I think I did it from your computer and it worked.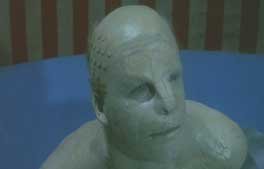 Deril

wrote on July 30, 2006, 11:43 am

Comment
I DID use IMDB.

That picture you posted is from the last 10 minutes of the movie before he actully becomes a real snake. That's as good as the make up and F/X get in this disaster of a movie.

DO NOT RENT. You've been warned!!
Papamikey

wrote on July 31, 2006, 8:17 am

Comment
LOLOLOL!!

I saw this on the dish and was GOING to tune in but the Missus called me over to shop for a new bed for THE BOY.

Looks like she saved me 2 hours of my life (though it cost me $1000...sigh!!!!!!)