Featuring Arnie Schwartzenegger as Lars, the Gym Instructor! Deril and I watched this a million times as kids, but I was unaware of that litle cameo until now. God Bless IMDB.
Haven't seen it forever, would love to rewatch. It's basically a madcap bonanza with a who's who of B-level comedy of the day a la 'Cannonball Run' or 'It's A Mad Mad Mad Mad World'. Check out the cast - EVERYONE'S in this movie.
Insanity ensues as people race all over the place to finish a scavenger hunt, double-crossing each other, crashing cars, etc....
Silly, stupid, ribald, and loads of inane fun.
I believe it even has a toilet named Marcel, or something close to it. Deril, what was the toilet's name?
Deril

wrote on July 4, 2006, 3:40 pm

Rated
LATRINE!!

No, seriously though, the toilet's name is Monclair. I believe the line is (in the voice of a sexy french maid)

"Oh no! You shot monclair!"
"I shot your what?"

Something to that effect. Mitch if we could find this I'd LOVE to re-watch. i'm gonna go check E-Bay. Maybe I can pick up a copy there.

Just saw some pics....it also has Face from the A-team
Deril

wrote on July 4, 2006, 3:46 pm

Comment
Done and DONE!

Mitch, I just bought it on E-Bay. We can watch in 2 weeks when dad comes to visit.

CAN'T WAIT!!
Christ he was big!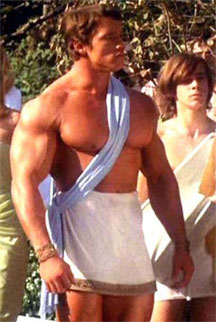 Montclair! I knew it was something french with an 'M'....
I also remember the scene where Richard Benjamin breaks into the department store at night and Scatman Crothers is the night watchman and he sings "Here comes the bride, don't try to hide..." then tackles him. Weird, what we remember.
Can't wait to watch it! I have a feeling it won't be as good as we remember.....
Rewatched it last night after not seeing it since probably 1982.....it still holds up quite well! Understand, this is silly silly silly overacted madball caperist buffoonery, but on that level we laughed quite hard at many scenes. All the memories came flooding back, so that was fun.
"I have no holes! I can't see!"
Deril

wrote on July 16, 2006, 12:29 am

Comment
This was a great re-watch. So many memories from childhood viewings. MONCLAIR!!

The Mummy scene was great, the "killer" souffle, and on and on.

Much better than the Facts Of Life Reunion