THIS IS AN AWFUL MOVIE - let me make that clear.
But on the scale of MST3K laughfests, this is one of the funnier ones so far.
Saw it with Deril last night and it was non-stop LOL. The plot is basic (of course) - good vs. evil on spaceship mutiny, but VERY 80's, with Physical-era Olivia Newton-John aerobic spandex for the ladies' space wear (and hula hoops!), and huge Ace Frehley shoulder fins on Navy wear for the guys.
Except the lead, Reb Brown (Yor!), who ran around in a wife-beater to show off the biceps.
When it started, we were aware that the FX of the ships in space fighting it out was actually pretty decent - then we realized that all outside-the-ship footage was directly taken from the Battlestar galactica TV show! Not a rip-off or replica footage - the ACTUAL footage of the Cylons' ships and the Battlestar ships!! How can do legally do this??
The captain looked like Santa Claus, so numerous Santa jokes were heckled at the screen, the hero was often referred to as 'Hunk Hugelarge' or 'Lance Beefbroth' or 'Chest McRunfast' etc....
a character was killed off and seen SEVERAL times in subsequent scenes, one character looked like Sting and a few Police songs were hummed at his appearances (and the occasional 'Oi!'), another character looked like Ed Grimley ("We sure got our butts kicked, I MUST say!"), and a few chase scenes involved what were obviously golf carts with space cardboard attached to them puttering through the ship ("You could walk on your HANDS and catch up to them!"). The quip about Lieutenant Waitress was classic.
Truly awful, truly funny, truly PLONT.

Hard to see, but pictured from left: Sting, Steak Hardbuff, 60-year old love interest, Captain Santa.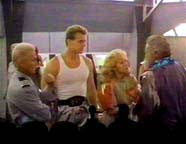 Man what a good laugh. I was nodding off before we put this in and then I laughed myself stupid for 2 hours. Probably the funniest MST3K that I've seen. SOOO many good jokes. Mitch & I were laughing throughout.

Mitch mentioned the best parts, can't think of anything to add